The Bel and The Komo Raise it for Redcliffe

Featured

Monday, 25 October 2021
Redcliffe Hospital Giving Day was launched with a significant $50,000 donation from The Belvedere and The Komo hotels.
In partnership with Royal Brisbane and Women's Hospital (RBWH) Foundation, the inaugural Redcliffe Hospital Giving Day aims to raise funds for life-changing hospital-led health research, evidence-based patient care, staff well-being, innovative equipment and other initiatives.
Thanks to the generosity of matched donors, including The Komo and The Belvedere, every donation made by Giving Day was doubled, and raised more than $164,000 for the Redcliffe Hospital.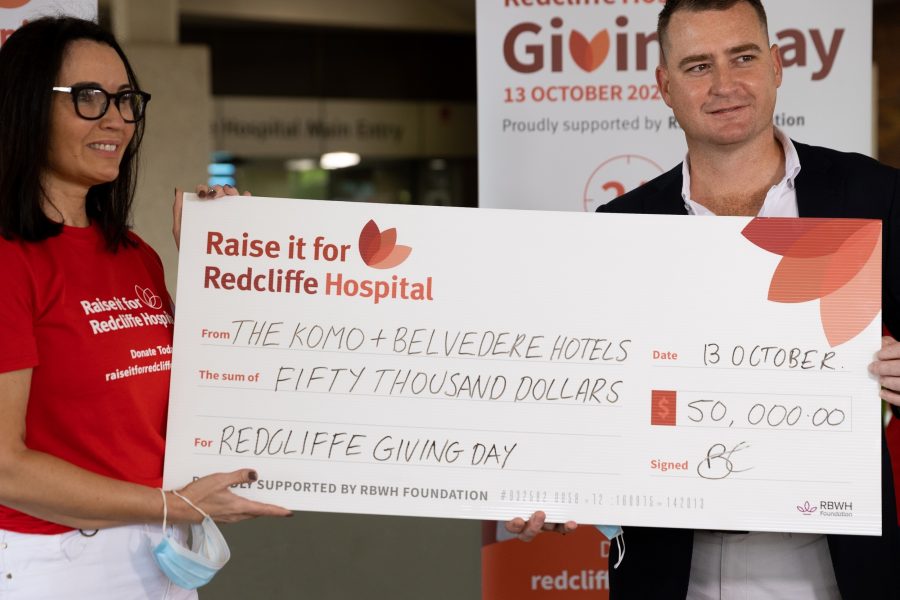 RBWH Foundation CEO Simone Garske said the level of business and community support was overwhelming.
"Redcliffe Hospital Giving Day is the first major campaign by Raise it for Redcliffe Hospital – a partnership between Redcliffe Hospital and RBWH Foundation," Ms Garske says.
"The community had been expressing a desire to give back to the hospital because of the vital role it plays in the community. It's where their babies are born, emergencies are treated, and family and friends cared for in times of need."
Chris Allison, Queensland General Manager – Leisure, said the Redcliffe Hospital was an important organisation in the area to support.
"When we looked to align ourselves with charities, we were approached by Raise it for Redcliffe (and) it really was a no-brainer.  The pleasure is all ours, it's an absolute privilege."
The importance of this health hub in the Brisbane North Metro health area is massive and to align ourselves with that is a win-win situation."
Back To Top